Project TAF
Welcome to Project TAF. This page is dedicated to the almighty signs 'Tag Applied For' and 'Stolen Tag'.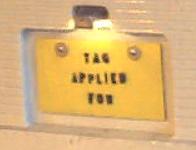 Above: A rather profesionally done TAF; black stencilled lettering on yellow painted plastic, with two chrome bolts!
These tags are a truly exclusive and bizarre item. If you were to put a TAF sign on your own car, you would probably be stopped by the police - however, city and county-owned vehicles can get away with it. How do they get away with it? Nobody knows... that's the mystery of the TAF. Is it registered? Insured? STREET-LEGAL? Nobody knows. Has the tag been applied for? Or was the application used to wipe somebody's nose? Was the tag really stolen? If so, who the heck took it? Nobody will ever know.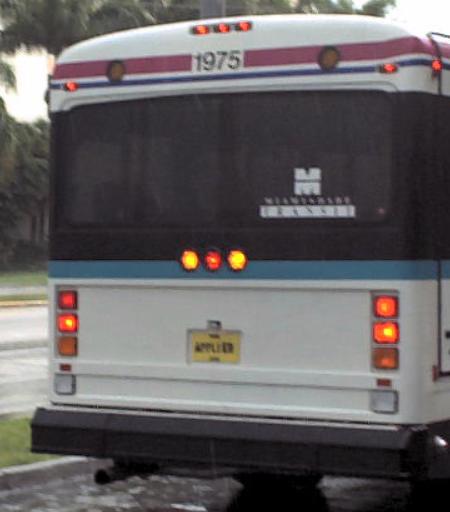 Above: An MDTA Blue Bird mini bus proudly sports the latest in TAF fashions: Black brush-strokes, stencilled letters, and even a dotted, decadently antigrammatical lowercase I! MDTA are true MASTERS of the Zen art that is TAF.

TAF Sightings

Location
Vehicle
TAF Type*
Notes
Miami, FL
Blue Bird
Mini Bus
MDTA #1957
2
Miami, FL
Blue Bird
Mini Bus
MDTA #1975
2
Seen Above.
The poster child
for TAF.
Miami, FL
Flxible Metro B
MDTA #9014
3
Plate was so old,
paint had fallen off.
TAF was ETCHED IN METAL!
Miami, FL
Pickup Truck
Dade County Schools
Maintenance
2
Miami, FL
NABI 436
MDTA #?
4!
License plate area
painted yellow, stencilled!
Remove license plate,
INSTANT TAF! True
convenience.
Miami, FL
Ford Taurus
MDTA Supervisor
2
Seen at a Dairy Queen
Miami, FL
NABI 436
MDTA #4033?
Looks
like
2
Seen on WB39 News!
Miami, FL
Blue Bird
Mini-Bus
MDTA #1978
2
Yet another...
Miami, FL
Flxible
Metro A
MDTA #7122
2
'Jesus Is The Solution' signs (...?)
Types: 1. TAF on yellow paper (rare, due to South Floridian climate) 2. TAF painted on plastic or metal license plate blank. 3. TAF ETCHED IN SURFACE of license plate blank. Vintage! 4. Painted on vehicle. 5. Stolen Tag, white paper in rear window. 6. White paper ST on bumper. 7. Brown cardboard ST! (The official license plate of Miami!!)
Submit YOUR TAF/ST sightings, with or without photos, to taf@blueneon.xidus.net.NOSPAMPLEASE (I think you know what to do to e-mail me...).
Haiku
Missing in action,
Your yellow plate screams out with
Tag Applied For now
Who swiped your numbered
Aluminum plaque from its
Illuminated spot?
Stolen Tag, bemoans
Piece of cardboard in the rain
Your trunk's come untied
...
That is all. You may now summon the men in white coats.